Sunset Kayaking Adventure for 2!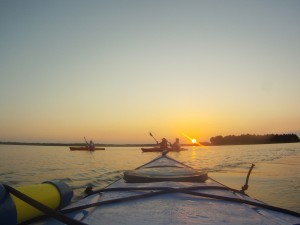 Join Mahanaim Adventures for a romantic sunset kayaking adventures for you and that someone special.  We will meet at 5:00 pm on the evening of your choice, for a leisurely 3 to 4 hour sunset kayaking adventure.  You and your partners will be guided to one of the many islands along the Cape Fear River or Fort Fisher Basin Area on your adventure.  The two of you will enjoy not only a fantastic sunset, but get a chance to view the spectacular wildlife of this area.  You will also enjoy picnic dinner on island where you will be watching a beautiful sunset in the west.
Your adventure will include your kayak, kayak paddle, PFD, all safety gear, picnic dinner while watching a beautiful sunset.  You will also be provided basic kayaking instruction by your professional guide if you have never kayaked before.
Cost:                      $150.00 per couple
Reservations:    Required
Location:           Sharks Tooth Island.
Note:
Tandem Kayaks available upon request
Sunset Family Adventures also available upon request
Family Camping Adventures!
How do we have a fun family adventure that creates lasting memories?  Have you ever considered a family camping trip?  That's right, a family camping adventure.  Think about it, eating your meals around the warmth of a fire in the great outdoors.  Or how about waking up at night and listening to a great horned owl's lonely call.  What about sitting around the picnic table in the evening playing family board game?  If you have always wanted to do something like this but did not have the gear or experience to ensure a fantastic and safe camping experience, Mahanaim Adventures does.  That is right; Mahanaim Adventures can provide your family a one stop adventure to remember.
Mahanaim Adventures knows how important it is to you to create a lasting and memorable family adventure. How do we know this, because when our kids were young, we wanted to have quality family adventures ourselves; to create moments that our family would treasure for a life time.  That is where we can help.  Mahanaim Adventures provides the tents, tarps, basic camping gear, cooking gear, and we even prepare your meals for you.  We have many possible camping locations in North Carolina for you to choose from, or tell us where you want to go camping at.
Our Family Camping Adventure packages are designed for maximum flexibility allowing us to create for your family an adventure to remember.  Menus are designed with families in mind, yet keeping with the camping environment.  Your menu is approved before your adventure, so if there are special diet requirements, we can accommodate your needs.  Also what you choose to do while at camp is up to you.  However, we suggest activities for your family such as kayaking, day hiking, day at the beach, or white water rafting (depending on the camping location).  The possibilities are endless.
Pricing for your 3 day and 2 night adventure packages starts as low as $475 for a family of 4 or 5 people.  Price may vary depending on your adventure location and the activities you may want to have fun with.  Once you make reservation you will be provided a list of personal that you and your family will be responsible for while on you adventure.   To schedule your family's camping advneture, contact us at donlharty@gmail.com