Corporate Team-Building and Coastal Kayak Adventures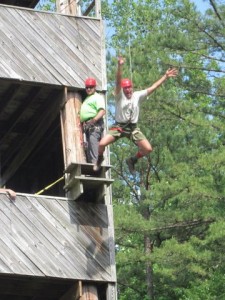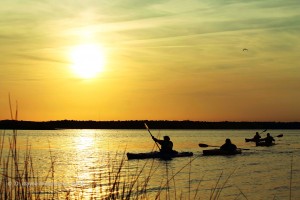 When Don Harty founded Mahanaim Adventures, he combined two passions he developed while a youth and adult leader in the Boy Scouts of America – the outdoors and the molding of others into their full potential. Mahanaim Adventures' kayak trips bring families, friends and communities closer together, and now their Low and High-Challenge Program can build stronger bonds and develop deeper trust within your corporate family. Through the Challenging Outdoor Personal Experience (C.O.P.E.) course, Mahanaim Adventures can reinforce your corporate values and objectives to all employees from new hires to C-Suite executives.
Don Harty is a certified Project C.O.P.E. Director for the Boy Scouts of America. In his 30+ years of experience, Don has participated in and led many different types of team-building events in scouting, academic and corporate environments.
Safety is a priority on all Mahanaim Adventure trips and Don holds certifications in:
Boy Scout / Eagle Scout
Boy Scout / Outdoor Leader Skills Instructor
Boy Scout / Lifeguard, Swimming and Water Rescue
Boy Scout & US Coast Guard Paddle Craft Safety and Rescue
Boy Scout / Wood Badge Leadership Training
Boy Scout / National Camp School / COPE's Course Director
Boy Scout / National Camp School / Program Manager
Wilderness First Aid Trainer Certification
American Red Cross First Aid
American Red Cross CPR
American Heart Association CPR
Team-Building Courses:
Half- and Full-Day Low-Course Events designed to encourage all team members to participate while building trust and learning skills that will help your team develop the necessary communication and problem solving skills needed to succeed in today's competitive environment. All events and challenges take place at ground level. Low-Course events can take place in a local park or an outdoor setting of your choosing.   We also provide kayaking team building experiences.
Full-Day High-Course Events incorporate Low-Course Events but with the added challenge of completing tasks on the high-ropes course located at Camp Bowers in White Oak, N.C.
Mahanaim Adventures provides all necessary safety equipment to complete either training course.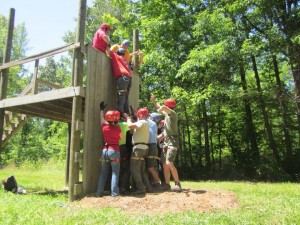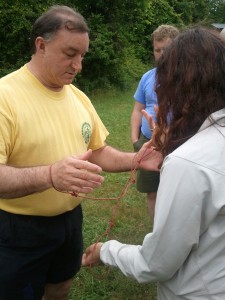 During the Team-Building Courses, Learn:
Communication –critical listening and discussion skills to help solve challenges
Planning –consider and develop other options to achieve goals
Teamwork – the strength of the group is greater than one individual
Trust – without trust, you're on an island, with trust, you can accomplish anything
Leadership – unlock the inner potential of other leaders in the team
Decision Making – making effective group decisions to address challenge solutions is a must in any situation
Problem Solving – develop solutions to difficult problems and surprising situations that arise
Self-Esteem – building confidence in the individual and the group makes everyone a stronger team member and makes the team unstoppable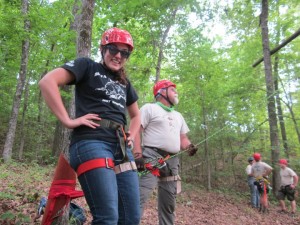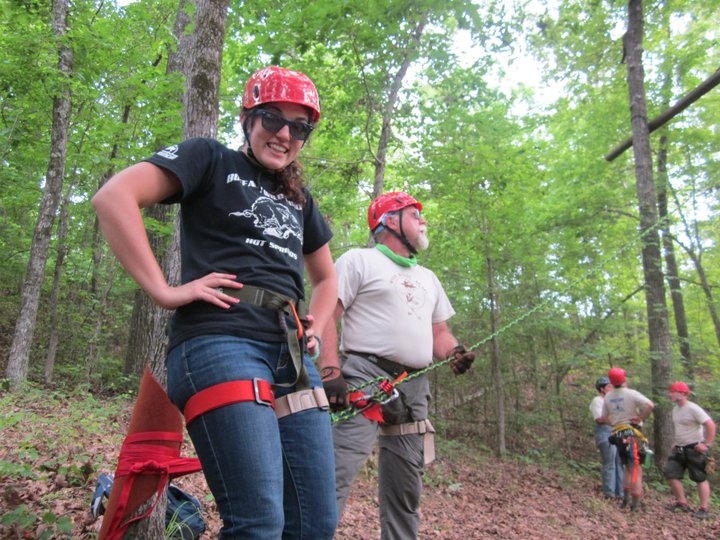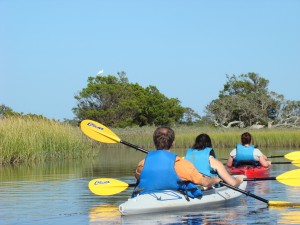 Frequently Asked Questions:
What is a ropes course? A ropes course consists of a variety of obstacles to maneuver around and problems to solve. Often they use rope or braided steel cables to create the obstacles.
What is a "High Ropes Course" uses sophisticated safety equipment to protect participants as they traverse rope (or steel cable) obstacles high in the air.
A Low Ropes Course presents similar obstacles and creative problem solving situations to groups and individuals at ground level.
What can I expect from my ropes course experience? Mahanaim Adventures designs each ropes course to reinforce the corporate values of participants and will conduct the event to bolster communication, respect, teamwork, trust and more.
Is it safe? Yes. Mahanaim Adventures is a certified Project C.O.P.E. director and is trained in both first aid and CPR, in addition, the equipment used on ropes courses is designed to keep all participants free from harm.
Do I have to be in good shape? Everyone can participate in ropes courses. Since challenge courses are "challenge by choice," participants measure their success according to their own abilities.
What if I'm afraid of heights? "Challenge by choice" courses don't require you to finish to succeed, so, if you're frightened by heights, simply climbing up a ladder or getting onto a platform can be a source of pride.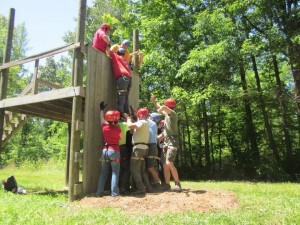 Learn more about how to develop your team with our team building and cooperate adventures by contacting Don at:
Phone: 910.547.8252
Email: DonLHarty@gmail.com