Last week, I had the pleasure to giving a presentation to a group of people at Great Outdoors Provisions, one of our local outdoor adventure suppliers.  What a fun evening it was to see so many people interested in learning how to kayak camp!  For me, kayak camping is one of the best adventures I can take, why; because it is like backpacking without all the walking.  Don't get me wrong, I enjoy backpacking tremendously, but kayak camping, can take you to some fantastically remote places that you could not get to easily while backpacking.
Anyway, everything went well with the presentation and all that I shared was well received.  After the presentation was over, one of the employees in the store said to me that he was glad that I talked about the essentials needed for any adventure.  These essentials are needed no matter if it is an afternoon day hike or a three day kayaking adventure.  I don't remember exactly how he said it, but in essence he said that he was constantly amazed how who many people are not prepared for an afternoon adventure, much less an overnight one.  We both commented on how if people had these items with them, that they may actually enjoy their trip adventure a whole lot better.
So I decided that I would dedicate my next blog to the 10 essentials needed for a safe and fun adventure.  These items are not in any specific order, but they are all important:
1)      Pocket Knife: A pocket knife is very useful for many reasons.  Cutting rope or twine for emergency situations, it is helpful in first aid matter and also for starting fire by creating a fire stick.
2)      First Aid Kit:  A basic first aid kit is really important to have.  Blisters, splinters, minor cuts and scrapes are easily taken care of with what you find in most inexpensive kits.  A few other items that you may want to consider having in your kits are antiseptic wipes, ibuprofen, latex glove and a pair of twisters.
3)      Extra Clothing:  Why extra clothing?  Let me ask you this question, how many time have you been out hiking with kids and they have fallen in the water?  A dry pair of socks, shirt and or light weight jacket to change into can make a wet hike much more fun for all involved.  In the colder months, this will be a life saver and help prevent hypothermia. 
4)      Rain Gear:  I can speak from experience on how many times I have been out and a unexpected rain storm blows in while I am hiking or kayaking.  Rain gear will be very helpful and keeping you dryer and more comfortable.  Also rain gear can be used as an extra layer in an emergency.  Remember even in warmer months, rain can be very cold, especially at higher altitudes. 
5)      Water:  I am simply amazed at how many people leave for what they think will be a short hike or adventure without anything to drink.  I recommend taking at least 32 oz of water per person on at adventure, even in the cooler months. 
6)      Flash Light:  Why a flash light?  Sometime you get out on a hike or kayaking adventure and time slips by you and you walk or paddle further than you think.  Or maybe the trail is much more rugged than you anticipated.  This could cause you to be later getting back to your vehicle.  Having a flash light will help relieve some anxiety of your group while helping you see the trail at twilight. 
7)      Food:  Having a snack on the trail is very helpful, especially when you have younger children on the trail with you.  A quick burst of energy can help you make the last mile of the adventure much easier. 
8)      Matches and or Fire Starter:  This is for those moments where you get wet and need to start a fire to dry off and warm up someone.  Also, if you should get turned around (you noticed I didn't say LOST) and have to spend the night out on the trail, a fire at night is reassuring and can be easily seen by rescuers.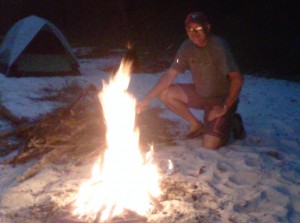 9)      Sun Protection:  Most people that live at the beach know this instinctively, but I am amazed at how many people forget this and get really sunburned while out exploring.  Sun Protection is absolutely needed on any adventure that is on water!
10)   Map and Compass:  A map and compass are essential for any safe journey into the wilderness.  You can get maps of the area at most park offices and outdoor adventure centers.  Spend a few moments studying the map before you set out, this will make a huge difference.  Map reading skills are very important and it is not hard to learn how to read a topo map.  Being able to read and understand a good topo map can save your life.
A compass is just as important as having a good map.  The compass will help your orient yourself and your map, allowing you to locate where you are at on the map.  Last reason is that if you take an occasional glace at the compass while out on the trail will help you from getting lost.
Having a compass is just as important as having a map.  Yes, there are smart phones that allow you to download a compass application, but please don't depend on them.  If you have not or limited signal, this could be a big issue.  Plus I don't know how accurate they are and it is impossible to orient a map with a cell phone.
Happy Adventuring!