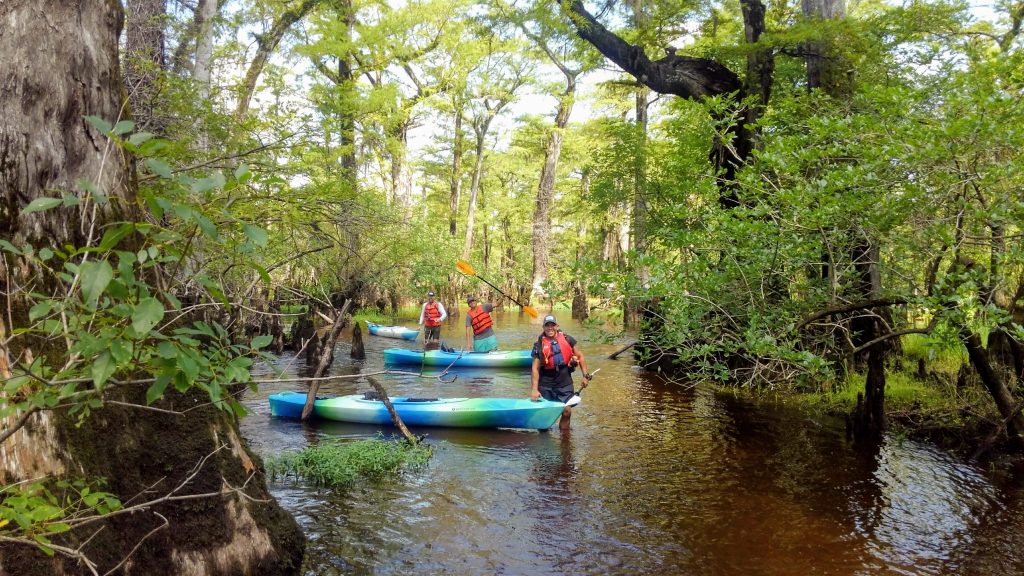 Whether you are interested in a half-day black water paddle or a full-day trip to view local wildlife, we will customize an adventure for you.
Our kayaks and canoes are easy to paddle and very stable watercraft once you understand how to maneuver the boats on the water.  Even if you have never been in a small self-propelled watercraft before, there is nothing to fear.  The average person is capable to maneuvering our kayaks and canoes after a minimal period of instruction.  Once you have received proper instruction and a quick safety review, you can begin your customized adventure!
We provide:
Kayaks
Paddles
Safety gear
PFDs (life jackets)
Camping gear
Instruction
Food (Sunset & Overnight Adventure only)
You provide:
You will want to make sure that you have a few items that will make your adventure a memorable one.  It is hot in the Cape Fear region during the summer months, so we recommend that you bring the following items:
Personal water bottle
Light, loose clothing that can get wet
Water shoes
Hat
Sun Screen & Bug Spray
Please remember that kayaking and canoeing are physical activities that require participants to be in good physical condition.  Because of the nature of these activates, all participants are required to complete our Participant Release of Liability and Assumption of Risk Agreement form.
Adventure Locations:
Words can't describe the beauty of this river; it has to be experienced for yourself from a kayak.

---

Black River / Three Sisters:Book Now!

On this full day kayaking experience you will experience the wonder and majesty of 2000 year old bald cypress trees.

---

Sharks Tooth Island / Cape Fear:Book Now!

Perfect for a leisurely paddle with your kids to hunt fossils and sharks teeth on one of the many island in the river or maybe catch a fantastic sunset.

---

You best chance to see Osprey's soaring about and other native salt march wildlife of the Cape Fear region.

---

Explore not just salt marsh and beaches, but stop on Zeke's Island for deserved rest and bird watching.

---

Holly Shelter Creek:Book Now!

Enjoy this intimate and beautiful blackwater creek and see eastern North Carolina forest land as it was back at the turn of the century.

---

One of the easiest kayaking adventures we have, perfect for adventurer of all ages and skill level. And it is a beautiful paddle also!

---