The other evening, my son, Joseph suggested that we head out the next morning for some kayaking. Those who know me know that I am always up for a good adventure, even in colder months. However, at this time, those of us who live in Wilmington are experience some fabulous weather, especially for being the middle of January. So the next morning we loaded up our kayaks and headed out for a early morning "Father & Son" adventure on the Cape Fear River. We got to River Road Park just about 7:45 AM and set everything down at the river's edge and began soaking up the Majesty of God's Creation! The morning was cool, but it was a bright and sunny morning that gives you a promise of a warmer day ahead.
Once we got to the park and set the kayaks down at the water's edge, we quickly noticed the stillness of the water. This was one of these rare mornings here in the Cape Fear area that we did not have any wind blowing. When this happens, the water in the Cape Fear River is very calm and smooth as glass. The reflections on the water a breath taking as you paddle are breath taking. A couple of other benefits of having this kind of stillness is paddling is easier and one hears sounds that you would not normally hear.
This morning we decided to head north on the river to take advantage of the incoming tide. As we paddles out we quickly notices how much warmer it was on the water. With no clouds or wind this morning, we were able to feel the warmth of the sun's reflection of the water. This made it quite nice and comfortable for us on this cool morning. Truly this is a rear morning here in Wilmington.
The stillness of the wind and water allow you to notice wildlife off in the distance quickly. We had not paddled for then 5 minutes when I noticed a pie-billed grebe diving along the marsh grasses at the edge of the water. The grebe kept diving for his breakfast meal, but kept a close eye on Joseph and I. As we paddled closer he would dive down and come up 20 or so yards further away from us. It was kind of cool watching this little bird.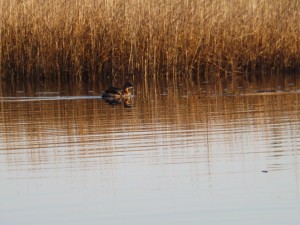 Later on as we paddled our way back to the boat ramp, we spotted a pod of dolphin about a hundred years off. This was so very cool seeing these beautiful animals. They did not let us get close, but we were able to sit still and observer them from that distance. The wind and the water remained just like it was when we started so it was easy to view them. As we sat there we counted 7 in the pod that included 2 calf's that stayed close to their mothers. Maybe this was why they stayed away from us. Anyway we sat there floating on the water for 15 minutes watching them play in the water and chase there breakfast meal.
Both Joseph and I reflected on our morning spent paddling on the Cape Fear River. It was so cool to watch the wildlife together. It was simply amazing to take advantage of this beautiful morning and to enjoy it together. It was also a great experience just to get out and paddle together as, father & son. We both agreed that we have to take advantage of the next time we have such nice conditions.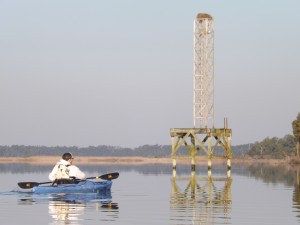 Don & Diane Harty own Mahanaim Adventures and provide "Positive and Memorable" kayaking and other outdoor adventure in the Wilmington NC area. Some of the kayaking adventure locations are: Fort Fisher Basin; Cape Fear River, Sharks Tooth Island, Masonboro Island, Eagle Island, Town Creek, Holly Shelter Creek, Moores Creek and the Black River. Long onto www.mahanaimadventures.com to read more about these adventures and to schedule your adventures. Or call 910-547-8252 for more information.