How do I begin to describe my most recent multi day adventure on the Suwannee River in North Florida? As a teenager in growing up in Boy Scout Troop 99 (Brandon, FL), our annual Suwannee River canoe trips were legendary. The last day of school for the year was traditionally a half day event, so the moment we got out of school, out scout troop headed out to High Springs, Florida for our annual 5 day canoe trip. We would cover at least 50 miles in order to earn the coveted BSA 50 Miler Award. Most of the times, we would paddle about 70 miles on the Santa Fe & Suwannee River's. What fun, what adventures we had. I remember Danny Williams putting the largest dead cottonmouth water moccasin I had ever seen by his father gear. Wow, I will never forget how mad Mr. Williams was about that. We all thought it was funny, but dared not to laugh at Danny, because we all had a part in that one.
So, as I leave my home in Wilmington, NC, headed to White Springs. FL, I could not help but recall all of the fun times I had as a kid. I guess it was on trips like those I took as a kid, that helped cultivate my love for the outdoors and my passion for adventure. I hoped that this trip would be just as memorable as that of my youth, but from a grown man's prospective.
After a day full of traveling nightmares, I made it to where Jim Sowell was camping at. Jim was to be my kayaking partner for this adventure. Jim and I have shared many backpacking adventures together when I lived in the Atlanta, but this was our first kayaking adventure together. So I felt confident that we could handle anything that we came up against. It was also good to catch up with each other. It had been over 10 years since our last backpacking trip. We have both changed (both of us have more gray hair that I would like to admit), our families have grown or almost grown and now we were both looking more changes in the future. We sat by the fire in camp that first night remembering all the fun we and our families together camping all over North Georgia.
The next morning begin early enough with us shuttling my suburban to Suwannee River State Park. If all went well, we would be taking out there on the third day, some 45 miles downriver. After getting back to our launch site, we fetched our kayaks and gear out of the woods (we stashed them there while we were moving the vehicles). Now then began the task of packing our kayaks with three days worth of gear and food. We did not know what quite to expect, but I had more gear than I really needed, but I would rather be safe. And heck, the kayak was carrying all this gear, not me. After about 30 minutes of packing and repacking, we were set to hit this water. After a quick picture to commemorate the moment, we pushed off the sandbar, pointed out boats downstream and with one stroke of our paddles; we were on our grand adventures.
How beautiful a day it was this early November morning on the Suwannee River. The river was low due to the continuing drought in South Georgia and North Florida. We spent the first few miles pushing or pulling our kayak across shallow sandbars. This was beginning to become annoying, getting out of the boat to pull it across a 5 to 10 foot section to shallow to paddle across, and then getting back in the boat only to do it again several minutes later. It seemed that we were in the shallowest part of the Suwannee River, at every turn the deep channels would just give out and spread out to be only inches deep. Yet, despite the work getting over the sandbars, there was something very relaxing and peaceful about being in the wilderness. The warm sun, the warm water and the birds chirping and singing made our effort seem like no problem at all.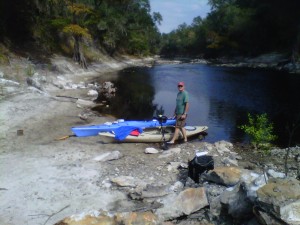 After about two hours of constant paddling and pulling, we found a nice spot for lunch. The river had started to get somewhat deeper here, but narrower also. Jetting out into the river was a bunch of sharp and large boulders. Jim and I talked about what kind of rocks they were, because of their unusual straight and sharp edges. To be honest, the rock looked similar to flint rock that Indians use to make arrow heads. Anyway, if the water would have been high, this section of the river would have been fun to paddle due to the rough water caused by these boulders. Anyway, it was a great place for lunch.
After our trail lunch, we were back on the river enjoying the deeper water of the river. Here in North Florida, the Suwannee River has two unusual features, not typical to most of Florida. First is the large number of limestone bluff along the river. The river seems to have cut its way through a large amount of limestone in places. Some of these bluffs are as high as 40 feet about the river. The trees that grow along these bluffs have root structures that can be seen in the crack and crevices of these bluffs. Many of these trees would lean way over the river creating a canopy of shade to kayak under. Along these bluffs, the river usually very deep, allowing for many of these trees to have a rope swing in them. I could only wonder how much fun was had swinging or jumping from these trees into a deep pool of water on hot summer days.
The other feature of this section of the river was the numerous sandbars. There was no shortage of camping spots on the river. The sandbars would rise out of the water and where as powdery white as powdered sugar. Later that day we would find a great sandbar to camp on for our first night on the river.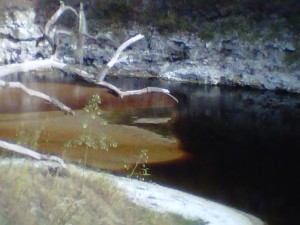 Later on that afternoon, we came upon two kayaks and a canoe, paddling down the river. These folks were from Dahlonega, GA, a place that Jim and I were quite familiar with. The interesting thing is the amount of equipment they had with them and how small the two kayaks were. I felt we had to much gear, but we were going ultra light compared to the group. They had two ocean type, sit on top kayaks loaded down with more gear than they could carry. The canoe looked like it was carrying the kitchen sink plus some dining room furniture. By the looks of the gear they had, we thought they were headed all the way to the Gulf of Mexico. But they weren't as we found out when we passed by. I bet they had fun pulling across all these sandbars we crossed earlier that morning.
After about 11 miles of paddling, we decided it was time to pull off and camp for the night. We found the perfect sandbar overlooking the river. What made this place even cooler was just up on the ridge above the river was the Florida Trail. The Florida Trails is Florida's own version of the Appalachian Trail. Anyway, Jim and I set up camp on this nice sandbar and began looking for fire wood for our evening campfire. As evening fell, we sat on the beach cooking our dinners, reflecting on the day's events and the fun we had, all the while watching the peaceful river flowing by. The sun was setting to our west and all the night creatures beginning to stir. Soon we were hearing owls in the woods calling each other. What a wonderful sound to hear the hooting of owls at night.
As the evening was falling quickly, Jim decided it was time to build our fire. So, I began breaking up the sticks and other pieces of wood that we gathered earlier for the fire. Jim went to his tent and came back with a flint and steal kit. Jim was determined to start our fire the old fashion way. After a few minutes of me watching and giving him a hard time about it, he got the fire going. Then I promptly squelched the fire with too much wood. So Jim went back at it once again and quickly got the fire going again. This time I was a bit more careful with the amount of wood I placed on the fire. What a nice evening. We watched our fire while sitting on this beautiful white sand beach; listening to the owls in the back ground and sharing stories of adventures from our past. I even believe there were a few stories that included another hiking buddy, Don Hamlin. Don was suppose to come, but had recently changed jobs and could not get off. I told him he should quite any way and come with us.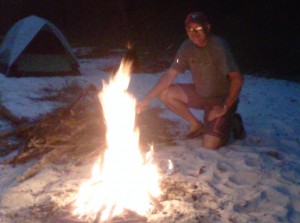 The next morning came early. We were up at the crack of dawn gathering our gear and eating some breakfast, soaking in one last moment at this beautiful camp site. We got on the river at 8:30 am, knowing that we had about 18 miles to paddle that day to our next camp site, so we got an early start. As we got going, we were pleasantly surprise with how warm the day was becoming. At times it became almost downright hot. The river was not any wider than the day before, but it was much deeper and we were able to spot the deeper water and stayed out of the shallow water for most of the day.
Today was the day for spotting wildlife along the river. About an hour into the trip this morning, we saw three does standing on the left side of the river bank, trying to decide if they wanted to cross the river. Jim and I just floated for a few minutes and watched them. When we got close to them, they turned and ran back into the woods on the left. A bit later we saw about a 4 foot alligator sitting on the limestone rock outcropping along the river back. The gator just sat there watching us, almost like we were nothing to him. After lunch, we saw three nice size bucks trying to cross the river. Two of them were standing in the river when we rounded the bend. The lead buck kept walking across the river to the other side, while the second one could not decide what to do. Eventually the second buck went back to the shore where he came from and joined a larger 8 point buck. The two of them were quickly gone. Later this evening after dinner, Jim and I were walking on the Florida Trail and came up on about a dozen wild turkey about 15 feet from us. This is the first time I have ever gotten this close to these beautiful birds in the wild. Normally when I see turkey, it is a quick glimpse as they are running the other direction.
This day was full of other adventures than just seeing lots of wildlife. We stopped at Suwannee Spring State Park for a quick look at the old sulfur springs and bath house. This area was apparently a happening place in the late 1800 and early 1900. The natural sulfur springs were a draw for tourist for the healings power of the water. At one time there were three large hotels and a nice size bath house that dammed up the water into a big tub like structure, creating an open bath house. The sign at the springs said that the waters were believed to have healing qualities that could cure illness from "Gout to many marital issues". So Jim and deicide to take a large sip of water just to see!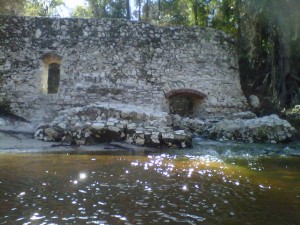 About a mile down river we stopped for lunch at the Suwannee River Canoe Outfitters launch. We got out and explored the area. The outfitter was closed so we took the liberty to fill up our water bottles and eat lunch on their beach. But there was one employee of the outfitters that showed up and joined us for lunch. One of the outfitters cats came down to make sure we were behaving ourselves. This was the friendliest cat I have even seen. He would not leave Jim or I alone. We gave him a few scraps of our lunch and that seemed to make him happy for the moment.
After about 40 minute stop, we got back on the river for the last 7 miles of our trip for the day. We had covered 11 miles that morning before lunch without paddling that hard. The last 7 miles were quite and uneventful. We made it to camp at 3:30 that afternoon. 7 hours of kayaking covering 18 miles including several stops, not bad. But I believe my back side was starting to form to the kayak seat in my boat.
Our camp this night was Holton Creek River Camp and what a camp it was. Holton Creek is one of five paddle-in river camps designed for kayak and canoe camping. These campsites are managed by the state park system and are very well kept and from what I hear, very popular. At Holton Creek there were 6 screened in shelters for uses. The shelters included a nice fire ring and a picnic table. There were also nice bathrooms with showers and a large cover shelter for eating and cooking. There was even running water and electricity if it were ever needed. WOW! This place was nice.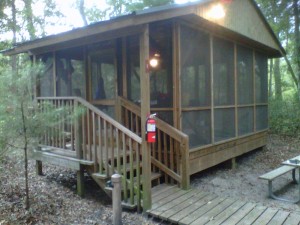 Good thing that we stayed that night in the shelter, because sometime in the middle of the night, it began to rain and rain hard. A night like this makes a camper glad to have a solid roof over their heads. The next morning when we got up, it had stopped raining, but looked like it could start again at any time. Jim and I considered our options and decided it was best to get an early start and try to get as far as possible before the rain came back. So after a quick breakfast we were back on the river paddling our way to our take out point.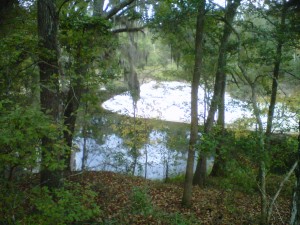 After about an hour of paddling we came upon a nice spring and camping spot on the right side of the river. We decided to pull over and to take a look in case we were ever in the area and needed another place to camp. The spring was very good and a large water source of good water. The campsite was large and open, under a broad hammock of old growth live oak trees. We filled up our water bottles and started to head back to the kayaks. Jim was ahead of me as we walked back to the boats and that is when the fun began. You see, on every one of our previous adventures, something has happened to give everyone a grand laugh, usually at someone expense, most of the time it was at my expense. We had made it back to the boat and were storing our gear and before I knew it, I hear a whole bunch of noise and things crashing. I turned around to see Jim doing his best to keep his balance and not fall out of the kayak before he even got into it. Well, that didn't work, after a second or two of attempting to keep his balance, in he went the river with a huge splash! I have to admit, it was one of the funniest things I have even seen. I just wish I had a video camera to capture this event; I could have not the grand prize on American Funniest Videos.
After Jim got up and got somewhat dried off, we were back on the river. I have to admit, I chuckled for quite a while after that. Deep down, I figured it would have been me doing something like this. Anyway after about another hour of paddling, the rain came back. And did it come back. I mean it poured on us. Kayaking in the rain can be fun if you have never tried it. The only bad thing was that this rain was cold. The only good thing is that we heard no lightning, so we just put on our rain jackets and kept on kayaking. It must have rained for 45 minutes before it let up to a slow drizzle. Each of us had water in our boat, but we just kept on going. I think by this time we both wanted to get to the landing and get off the river. We had been looking at the weather radar that morning on my cell phone and knew that A LOT of heavy rain was headed in our direction.
Finally after four and a half hours on the water, we had made it the last 10 miles to Suwannee River State Park, our take out point. Both of us were soaked to the bone and glad to see the take out beach. Our original plan was too spent the night at the park and the head home the next morning, but we decided to both head home that afternoon. After a short drive to get Jim's car, we changed into some dry cloths and said our good by's. This trip was a great reunion and adventure for the two of us. It was also confirmed my suspicions that this would be a great place to take people kayaking. Jim and I talk on this trip that this would be a great place to bring our wives on a couple day kayaking trip. It had showers for them to get a bath each night. Don't get me wrong, both of our brides are great campers and enjoy a camping, but if we can offer them a camping place like Holton Creek each night and a shower; I know that they would join the fun.
I am planning on taking the trip in the middle of February 2011. If you are interested in joining in the fun, contact me as soon as possible.