As I sit down and begin to write this blog about my recent experience taking a group of soldiers from the Wounded Warrior Project kayaking; there are many things going through my mind.  The first though that goes through my mind is an extreme gratefulness that I feel for these young men and women that serve in our military.   The sacrifices that they make each day to serve are more than what I think most of us not military members realize.  I am reminded of when I got a firsthand glimpse of this gratitude, when my son-in-law was deployed in Afghanistan for 11 months.  My oldest daughter is married to a Marine and she stayed with us during the time he was deployed.  I would watch her stop dead in her tracks, listening to the evening news about another US Marine being killed in combat.  She never said anything, but you could see it in her eyes, "what if it was Josh?"  The sacrifices these men and women make for our freedom is untold, and not just them, but those that they love. 
So I want to say a huge "Thank You!" to each of these guys who went with me and all the others who have served.  Also, a big thank you to Josh Coalson, my son-in-law, who is a Corporal in the US Marines. 
This day began at 11:00 AM, when a large white van from Fort Bragg pulled into the parking lot at Gordon Lewis Wildlife River Launch.  All of a sudden a group of men and one woman piled out of the van.  They were full of energy and excited about not having to do some sort of training the rest of the guys were doing back a base.  I also heard some good rock-in-roll music pouring out of the van.  I remember thinking at that time; this was going to be a fun trip.   
After a few minutes of instruction and prepping the kayaks for the guys and we were off on Town Creek / Rice Creek for our adventure.  It did take long before these guys were splashing each other or challenging someone to a kayak race.  This is one of the great pleasures I have co-owning Mahanaim Adventures with my wife, watching people having fun in a wilderness setting.  To see these guys relax and have fun was rewarding.  Soon, I rounded one of the bends in the river to find several of the solders bouncing on a submerged log in the middle of the creek.  I could only wonder what the family on the pontoon boat was thinking when they went by.   The mother on the boat asked me as they went by, if they knew there were alligators in the area.  I told her yes, and that some of them wanted to wrestle one of those gators.  I think I even heard one of them bet another that they could win in the wrestling match.    
Soon we came to our lunch spot.  Today we were stopping over at one of the three Cape Fear River Watch camps on Town Creek.  As soon as we were there, the guys were out swimming in the creek have the time of their lives.  One of the guys, was floating around in the creek, slowly bringing in his kayak to shore.  This was just what some of the other guys needed.  Out they swam and swamped his kayak.  It was great to see them trying to climb back into the kayak.  Now, if there was only a tire swing over the river!  That is the only thing missing to make this moment more fun.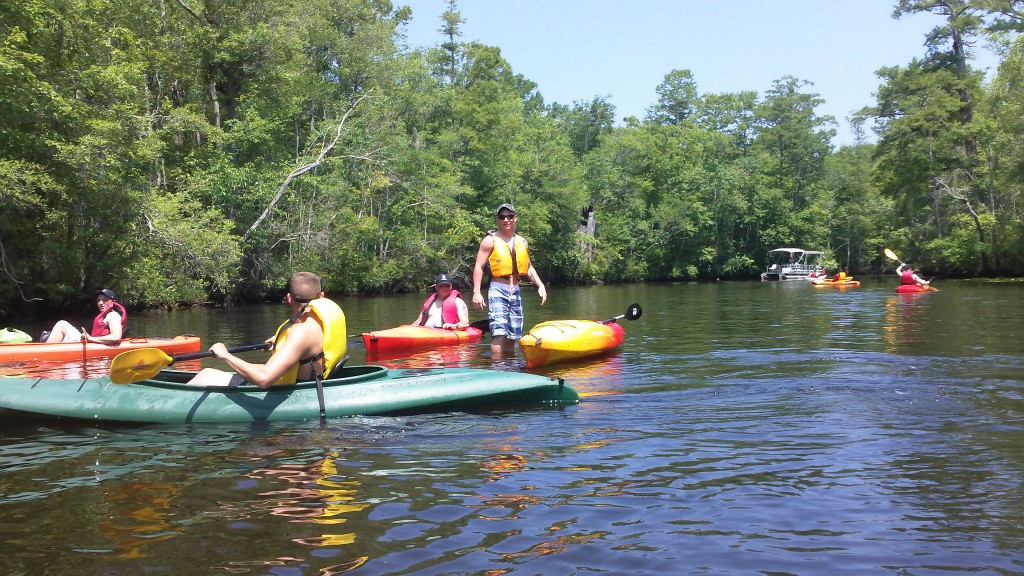 Soon we were finished eating lunch and back on the creek headed back to the launch area.  I hung back and started talking to the Army Chaplin who was responsible for the spiritual care of these men.  Jeff is a man with a passion for God and the men he has been entrusted to care for in some difficult situations.  Jeff told me about their last deployment and the extreme difficult situation they were in.  After listening to Jeff, I came to understand more about what a "Wounded Warrior" was.   It must extremely difficult to see so many of your buddies hurt and even die in the call of duty. 
After about 15 minutes paddling with Jeff, I noticed a bunch of splashing in the water ahead of me.  I told Jeff that I needed to go investigate and make sure all was OK.  Normally on my ordinary kayaking adventure when I see someone splashing in the water, someone has capsized their kayak and was trying desperately to get out of the water.  Not this time, these guys were jumping out of the kayak and challenging each other to grab a hand full of sand from the bottom of the creek!  To be honest, it was more a hand of muck instead of sand.  Who cares, I didn't have to worry; these guys were having fun and knew how to get in and out of their boats without any help from me.  I guess it is all about prospective, what other may seem to be a bad situation, is not so bad after you have had bullets flying at you.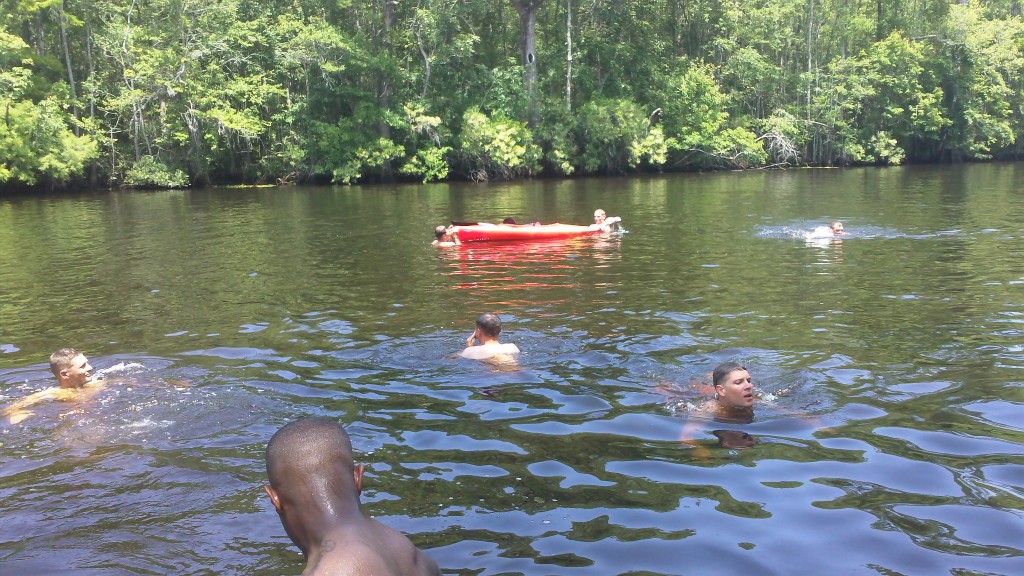 All too quickly my time with these fantastic guys was over.  Soon we were back at the river launch site, all my kayaks were loaded onto the trailer by the solders I was there to serve.  I am glad that I had this chance to take these solders on a fun day of kayaking in the wilderness of Town Creek.  I am glad that I could give them a fun and relaxing time, lazily kayaking in the sun and warmth of the North Carolina sun.  I hope that they will have some fond memories of this day that will help them remember the simpler things in life when the stress of being a warrior comes charging back at them.
Check out the video of our trip! Wounded Warrior Town Creek Adventure