It is cooling off now that fall is here and my family is now beginning to plan our next family camping trip.  What memories this beings back to Diane and I as we begin talking about what we want to cook and do on this upcoming family camping adventure.  The memories of sitting around a camp fire in the evening, the smell of the roasting marshmallow and the anticipation of the gooey smores fixing to be made.  Awe, this is going to be an even more special camping trip for us, since we are planning a Thanksgiving camping adventure.  While most families gather in the homes of family and friends, sitting around a large table loaded with the Thanksgiving Feast; our family will be gathering around a nice warm fire in our campsite for our Thanksgiving Celebration.
This will be the third time Diane and I have gone on a Thanksgiving camping adventure.  The first time we did this was our first Thanksgiving that we were married.  We had only been married for 4 months and my parents and some other family friends drove up from Florida to North Georgia's Vogel State Park for the holiday.  This was going to be fun, this would be our second time camping since our wedding day back in July, and Diane's first time camping in what was to be some cold weather.
What a memorable camping adventure this was.  We arrived at Vogel just after dark with a COLD drizzle falling.   What a night, it was wet, you could see your breath and I had never set our tent up before this night!  I learned that night to never take a new tent camping before setting it up first in the backyard.  As we got started, I could tell Diane was not that thrilled to be helping.  You guys know the look on your brides face when she is not having fun.  Just then some family friends drove up in their motor home.  Diane decided it was time for her to sit in the motor home with Helen, while Jim and I spend the next hour trying to figure out how to set up this tent.  This was the most miserable campsite setup I can ever recall in my life and resolved to never set up again in a very cold rain.  (This was one promise to myself that I did not keep, this same thing happened about 15 year later on a backpacking adventure)  Anyway, once that was behind us, the rest of the weekend was fantastic, including the light snow we got later that same night.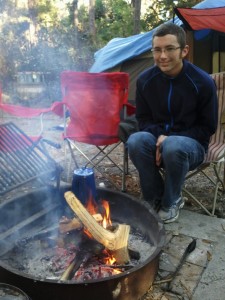 Three years ago, Diane and I decided it was time for our second family Thanksgiving camping adventure.  So we decided to go to Carolina Beach State Park for our family camping adventure.  Yes, it was cold at night, but nowhere as colds as our first time.   This Thanksgiving would turn out to be very special and we had great fun that weekend.  Josh, our now son-in-law came with us.  After that adventure, I know that he was bound to be our future son-in-law just because he survived the weekend.  Hillary, Sarah and Joseph told Josh about all the times we had as a family camping our way around the Southeast.  They shared all the wonderful memories we had.  We laughed at when Sarah got sick all over Hillary.  We reminded Joseph about the picture we had of him with his pants down so far you could see his vertical smile.   We cried some as we talked about the last time we camped with my Mother on Cumberland Island National Seashore before she passed away in 1997.  It was truly a time for many fond memories and a time of Thanksgiving.  Thankful that God had so blessed our family with each other and all the wonderful times we have had together.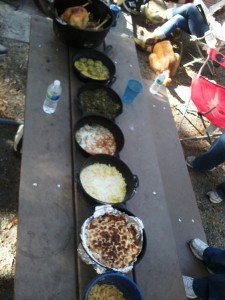 Last year, we tried to go camping once again but at the last minute we had to cancel our plans.  Thanks Joseph.  Joseph broke his nose the afternoon before we were to leave and following the doctor's recommendations we choose not to go.  So we are really looking forward to camping this Thanksgiving once again.  This will be Hillary and Josh's first Thanksgiving camping trip a married couple and I wonder what memories they will have from this adventure to share with their future family?  I wonder what other memories we will be blessed with to tell around the campfire when our grandchildren join us on future family camping adventures.
Camping adventures are lots of fun, especially when you have family and great friends to share them with.  If you are looking for ways to draw your family together and create some lasting memories, you need to consider spending some time on a family camping adventure.  I am positive you will not regret your decision.  If you don't know how to family camp or don't have the gear, contact us at Mahanaim Adventures, we can help with that.