What is it about Fort Fisher that continues to draw me back to this place to kayak?  I am not quite sure, maybe it is the fact that it is easy for me to get to quickly.  Maybe it is the fact that I get a chance to enjoy the seclusion of the southern end of Fort Fisher State Park beach.  Maybe it is a chance to see so many different sea birds as I paddle along the rock wall, as I make my way over to Zeke's Island.  I am not sure what it is that keeps drawing me over and over to this location to kayak, but I like it.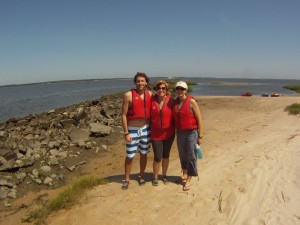 At first glance, the basin area looks boring.  This may be due to the large open expanse of salt marsh and open water.  As you stand at the launch there at the Federal Point / Fort Fisher Wildlife Boat Ramp, you can see quite a ways away.  You can see far off islands and the beach access that are all popular stop over location for many folks.  You see this and wonder what is so special.  Then you get out on the water and all that begins to change.
Don't be deceived by this area, the basin area can be deceivingly challenging place to kayak.  First you have to deal with the currents.  Many people forget this is a tidal area and the tides are always affecting this marsh.  If you find yourself in the wrong place at the wrong time, you can have a very hard paddle on your hands.  Another factor that most people fail to consider is the winds.  The wind can be calm one moment and then in the next be very strong, blowing up a nice chop in the basin that can be challenging for any kayaking skill level you are.  Then there is the distance.  Distance in wide open spaces can be very deceiving.  As you look to where the beach access is to one of my favorite places to stop, you think that this can't be that far.  Yet it is almost 1.7 miles of paddling.
Yet the rewards are great.  No matter when I am there, I see so many sea birds.  To watch the Brown Pelicans diving to get their dinner, especially if they are diving a few yards from your boat, it is awesome to see.  What is even more amazing is how these big awkward looking birds can skim just inches from the water and not even touch the water.  Then there are the clapper rails.  These are small birds that live in the marsh grasses and have a very large call.  What is cool is that there seems to be thousands of these birds in the marsh grasses and listening to them as you paddle at sunset is truly a wonderful experience.  Then there is the rock wall with all the birds you see feeding.  All I can say is WOW!
There are so many other reasons why Fort Fisher Basin draws me back over and over again.  Maybe it is the feeling I get while I am out on the water. Maybe it is the peaceful and serene feeling that allows me to relax and connect with myself, God and all those who are with me at that time.  Why don't you join me one day and find out for yourself and experience the awesome beauty of this area.
Check out the following photo video of a recent Fort Fisher Basin Kayaking Adventure.
Mahanaim Adventures offers guided kayaking adventures in the Wilmington, Carolina Beach areas as well as the Cape Fear Region.  We specialize in creating that memory of a life time for you and your family and friends.  Check out our web page and find out more details about all of our adventure locations.