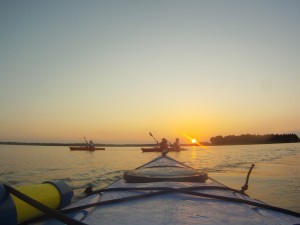 This summer I have had the pleasure of leading more than my share of kayaking adventures.  I guess that is a hazard of owning an outdoor / kayaking adventure business, but I guess there are plenty of other jobs that are worse than mine.  Anyway, I have had a chance to witness some spectacular sunset this summer while guiding these kayaking adventures out of River Road Park here in Wilmington, NC.  These adventures have given me the chance to simply stop in awe struck wonder; to stand still for a brief moment and soaking in the majestic beauty the sunset before me.  Each sunset has been different; no two sunsets even close to each other.
These sunsets have reminded me of some important facts that I need to remember.  Each sunset is a once in a life time event and it last only a few minutes and all too often I take them for granted.  This is just like some other things in my life.  Sunsets happen each day and become so familiar that at times, if you like me; I can be so busy with life that I fail to stop and notice what I have been given.
First, I was reminded how easy it is for me to taking things and people around me for granted.  This is something that very easily happens if I am not careful.  The danger for me is that I become can become so familiar with my surroundings; with those who I engage life with that I often fail to realize what a precious gift God has given me in them.   This summer I have had to pleasure to working daily with Sarah and Joseph (my middle daughter and youngest son), and what a pleasure it has been.  Yet, if I am not careful, I can get so focused on what I am doing or how thing are either going or not going, that I forget to stop and get to know my kids.  For me that is a scary and humbling thought.  To never really know who my children are and to take them for granted is something that I don't want, but yet it happens.
The other thing that all these sunset reminded me about is that sometimes we have to just stop and be still.  For me, life can be a steady movement from one goal to the next, or one project to the next.  When I get into this mode, I often fail to stop and soak in all that is good in life that I have been so graciously given.  In other words, sometimes I/we get to busy to watch a sunset or to be still and enjoy the moment.  It is amazing just too simply be still to watch and listen to all around me.  To relax and be still has been very good for me and all my relationships.
No matter how many different kayaking adventures I guide, the one reoccurring theme that I hear from everyone is how relaxing it is being out on the water.  Being still and enjoying the moment with loved ones and those special people around you.   When I slow down, I have found that I can relax and then begin to embrace and enjoy the life that I have been given; why not give it a try yourself?
Mahanaim Adventures offers guided kayaking adventures in the Wilmington, Carolina Beach areas as well as the Cape Fear Region.  We specialize in creating that memory of a life time for you and your family and friends.  Check out our web page and find out more details about all of our adventure locations.