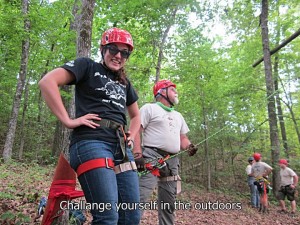 Over this past year Mahanaim Adventures, had the opportunity to take several different groups on either a kayak or on a high ropes team building event.  (The high ropes course is called COPE and the elements are the challenges on each COPE course)  Our events are designed to challenge each person and group to learn new skilled needed in successful team work.  As a COPE Course facilitator, one of the cool things I get to witness is how these folks with different prospective and backgrounds learn to come together as a team and solving some difficult challenges/elements.  To see learning taking place while having fun is really cool.
Our team building adventures, especially those that involve a COPE Course, challenges each person to learn new things but also to deal with known truth and overcome their fears.   This is especially true when each group walk the COPE Course and see the elements of the course for the very first time.  I have to admit myself that the first time saw the elements on my first course I was a bit scared.
I remember that these elements looked like fun, but I began to think what had I gotten myself and those who worked for me into.  You see, I had planned a team building adventure for those who reported to me when I working at UNCW.  At that time, our department had some radical changes forced on us and I really needed to challenge them to come together.  I knew at the time it was going to be hard work to deal with these forced changes and I know we had to do this as a team and no one person could do this themselves.   So I signed myself and my staff up for a COPE Course offered by the university.
When we got there that morning, I had not realized that it would be so challenging and I would have to deal with my fear of heights.  That morning I was forced to deal and act on what I knew to be true and to place my fear aside to help my team accomplish our goals.  In other words, I had to put my faith in what I had learned and knew was truth into action.  I was reminded that Faith is not faith at all, if that faith is not put into action.  This is the same no matter who you are.  You see, I had to act on what I knew to be TRUE and not let my feelings seize the moment.  Once I did that, I not only was I able to help lead my team through some challenge events, but I also realized something else.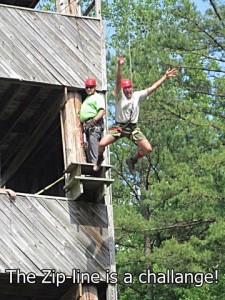 That something else is what I call the excitement of real life.  The fun of accomplishing something that earlier some of us had said, "Yea, right, I'm not doing that".  This was something that we had learned together.  We learned that even though something may be hard and scary, we can act on what we know to be true and move forward.  When we learn to do this, the challenge is still the same, but we learn we can overcome by working together, using each other strengths and having fun at the same time.  We learned that stepping out in faith does not get any easier time goes by, because challenges are constantly being through at us in Life.  Yet, those lessons learned on the high ropes course that morning helps each of us keep focusing on what is True and Right.
Where are you being challenged at today?  What Truth do you need to focus on so that you can take a step of faith and accomplish what scary challenge lies before you?