For those of you who grew up in Boy Scouts, you will know that the "Scout Motto" is to "Be Prepared".  This was drilled into me during my days as a scout and I can say, most great scout troops still place a great deal of emphasis on this.  To be honest, one of the biggest things that gets to me is watching the vast majority of people take off with their kayaks are woefully unprepared for what they are fixing to do.
This was brought home to me this past weekend when I saw a young couple jump out of their vehicles, toss their kayaks in the water and jump in and go!  No PFD, no sunscreen, no WATER, no clue to the weather coming or going, much less of the river currents that will affect their paddle.  When I pointed out the oyster beds they were fixing to walk into, they could care less (yes, they had no shoes of any kind on).  I could only imagine that they had a less than pleasant time on the water.
It is because of this lack of proper preparedness that I write the next blog.  I hope over the next several weeks to add additional blogs that will help you be "Prepared" when you head out on your next adventure.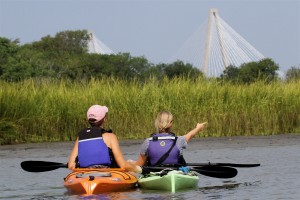 Here are some very basic things that need to be considered before you take your next kayaking adventure.
Always try to plan for the unexpected "what ifs?" What if I get delayed? Lost? Injured? Am I prepared to cope with that?
Always have a map and compass with you.  This means that you know how to orientate the map and use the compass, so make sure you learn basic map reading and compass navigation skills before you head out on the water.
Pick a trip, even a short day paddle and study your intended route on a map at home. Doing this when you're not stressed allows you time to become more familiar and comfortable with the unique markings of a topographic map and where you will be going.
Additional essential items that can save your life when out kayaking:

Plenty of water to drink
Hat
Sunscreen/bug spray
Flash light
Cell phone
Matches for a fire
Extra clothing
Rain gear
Snacks
Knife
Dry bag for all your essentials to be placed

Float Plan.  It is critical that you let someone know where you're going, what route you plan to take and your estimated return time. If you get lost, the sooner a rescue operation begins the better for your searchers and you.  If you change your plans before you start a trip, call and update someone, even if you simply leave a voice mail.  This also implies that once on the river that you stick with your plan and not deviate.
Oh, I am assuming that you will have your PFD with you before you get into the water.
Mahanaim Adventures provide wonderful adventure in the Wilmington and Carolina Beach areas of North Carolina.  We can also customize a guided kayaking adventure to Florida as well as any other location in the Southeast US.  We specialize in creating that memory of a life time for you and your family and friends.  Check out our web page and find out more details about all of our adventure locations.